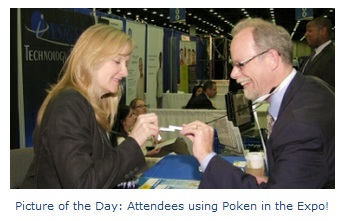 Sean Daly, President and owner of Dalyworks has been at the National Veteran Small Business Conference and Expo in Detroit since Tuesday. The conference, which goes until Friday, has already proven to be a great success. Here are some of the highlights of the conference thus far:
Amazing Keynote Speakers:  One highlight of the Conference has been the amazing keynote speakers. Including:
Eric K. Shinseki, Secretary, U.S. Department of Veterans Affairs
Mr. John R. Gingrich, Chief of Staff, U.S. Department of Veterans Affairs
Michigan Governor Rick Snyder
Detroit Mayor Dave Bing
Networking Session:  Attendees of the conference were able to network at the Welcome Reception. Some of the keynote speakers and procurement decision makers, including Secretary Shinseki and Chief Gingrich, met with attendees and exhibitors at the event.
Breakout Sessions: The conference also features a lot of session on specific topics, such as marketing and shipping logistics. In fact, according to the event's Twitter account @vetbizconf,  ( link to the twitter post)they are adding VA senior leader roundtables and VGP networking roundtables with corporate decision makers to the agenda.  Our favorite session was on shipping logistics, brought to you by our own Sean Daly.
Fun, Helpful Gadgets:  To aid in the networking process, the conference provided attendees with Poken. They allow attendees to exchange digital business information as well as collect other materials, such as brochures. Attendees love how easy they make exchanging information, in fact Sean made the photo of the day using his Poken!
Today is the last day of the Conference. The last few days have been filled with great information and amazing networking possibilities. Keep watching our Facebook and Twitter for updates from Sean about his experiences at the National Veteran Small Business Conference and Expo.
Photo Credit: National Veteran Small Business Conference