Event Services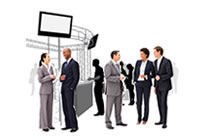 We are able to provide top notch event services at the best price around, increase the interaction between attendees and exhibitors before and after the event through our Interactive floor plans and virtual booths (Increased ROI for the Exhibitor and Attendee), simplify the entire process by consolidating ALL services into one online application and reducing the overall cost of the event to your exhibitors, attendees and your staff.
Benefits To You
Interactive Floor Plans / Virtual Booths
Event Management Services
Event Setup
Exhibitor Access
Attendee Access
Logistics
Audio Visual
Marketing
We provide a rebate of up to 5% of sales to the event provider. We see this venture as a partnership and believe that partners need to share in their success.